Services offered



Back to the main page


Services of the NOHAB Apartment

We will endeavor to make your stay at our apartment as enjoyable as possible. As a licenced tourist guide and hiking group leader, I can suggest you things to see and do in the surroundings or for a modest guiding fee even accompany you on certain programmes. Should you have any wishes, please e-mail us in advance and we will advise you on possibilities and details on the required programmes.

A comprehensive list of sights and programmes is available to browse on our dedicated programmes page.

Services offered to all guests staying at the NOHAB Apartment include a welcome drink, free cable tv, Internet, use of the garden and our terrace. Prices include all taxes and the use of household machines (fridge, oven, coffee machine, washing machine, etc.) in the apartment as well as water and electricity consumed. We will provide you with ground coffee for the coffee machine and Nescafe 2in1. The bathroom will have towels, soap and toilet paper and essential cleaning material, all included in the price of the apartment. You will naturally also get sheets and quilt/duvet. Please indicate which one you prefer when booking.

Guests with babies and small children will have free access to a baby bed, baby feeding chair and baby toys. Guests staying for at least six nights between October and April will receive a 10% discount from the apartment fare and will be provided with a bottle of wine and wood for either heating the apartment for one night or cooking in the garden on an open fire on two occasions, free of charge. Aditionally, we will invite them to be our guest for a typical Hungarian meal, to be cooked on an open fire in the garden, should the weather and our other commitments allow for that.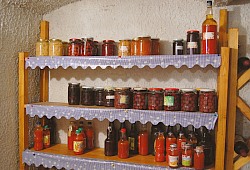 Click on the photo to enlarge it

Although no food is included in the price of the apartment, we will happily arrange breakfast or other meals for you in a restaurant just one minute walk from our house. If you would like us to help you cook your own meal on an open fire in the garden, please indicate this in advance. We also have access to a range of organic food and other local products, wine being the most common. Some of these products (such as fruits and vegetables and certain dairy products) are seasonal so please inquire in advance if you have specific interests.

The list of things available include honey, cow and goat milk, cow and goat cheese, sour creme, yoghurt, eggs, walnuts, almonds, tomatoes, paprika, zuccini, watermelon, several kinds of berries, cherries and sour cherries, apples, pears, peaches, plums, and in most years even figs. Some local people produce pastries and pasta, jams, tomato juice, grape and other fruit juices or elderberry syrup. Fish from Lake Balaton is widely available as well as poultry, pork, beef and meat products. Winter specialities include the so-called "kocsonya" (jellified soup) and baked pumpkins. We can even organise for you to go mushroom picking in nearby forests with an experienced local guide.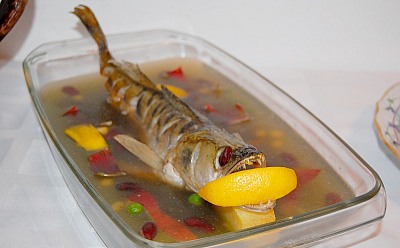 Click on the photo to enlarge it

For wine lovers, there is a range of both white and red wines. I will happily introduce you to the Badacsony wine region and its specialities. Types of wine include the Hungarian Riesling (in Austria and Germany knwon as Welschriesling), Rhine Riesling, Pinot Gris, Pinot Noir made as white wine, the unique Bakator and Kéknyelû ("Blue Stem"), Chardonnay, Chasselas, Red Tramini, Sylvaner, the locally raised Cserszegi Fûszeres, Zeus and Rózsakõ as well as Muscat Ottonel and Muscat Lunel. Ürmös, an interesting fortified wine aged on green walnuts is a local speciality. Producing red wine has officially been allowed for over a decade and wine makers have some very promising results. These include the Hungarian variety Kékfrankos as well as Zweigelt, Pinot Noir, Merlot, Cabernet Sauvignon, Cabernet Franc and Syrah. You can even get organic Otello, which is not officially a wine in Hungary as its an American variety but it can be very refreshing.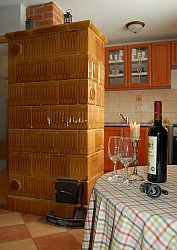 Click on the photo to enlarge it

Several producers have rosé or make their special cuvée's and there are also a number of organic wine producers.The Badacsony wine district includes the hills of Mount Badacsony, Szigliget, Szent György-hegy (Saint George Hill), Csobánc and vine plantations as far as Révfülöp. We will happily suggest you where to stop by on the Badacsony wine trail or discover some unknown local producers or even accompany you on your wine tasting programme for a small surcharge. Wine tasting programmes in our own wine cellar from bottled wines of our wine region are also available, please inquire for prices by e-mail.

There are also many good restaurants in our area and several are open throughout the year. These mostly serve typical Hungarian meals and a range of local wines. We will be happy to be consulted on which restaurant to choose for your lunch, evening meal or special occasions.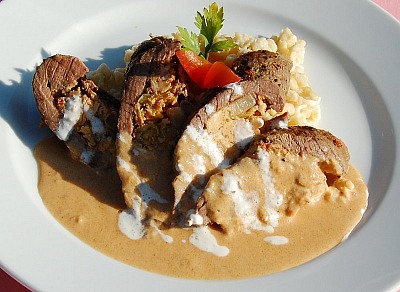 Click on the photo to enlarge it

Wellness services are also available within our village, close to our apartment. Using the sauna costs EUR 3,00 per person and a session of jacuzzi costs EUR 5,00 per person. Massage is also available upon previous request for EUR 19,00 per person. Within a ten mile area there are several locations for horse riding, rowing, fishing, hot air ballooning, playing tennis or golf, and so on.

To book the apartment or any related services, please e-mail us. Should you have any specific requirements not mentioned above, we will happily look into the feasability of it and arrange for you all that is possible.

Please also visit our programmes pages and photo gallery.


Back to top of page